Golden Retriever and Siberian Husky mix
Pretty sure this is an Australian Shepherd puppy. Golden retriever & Siberian Husky mix (or Goberian) look more like this: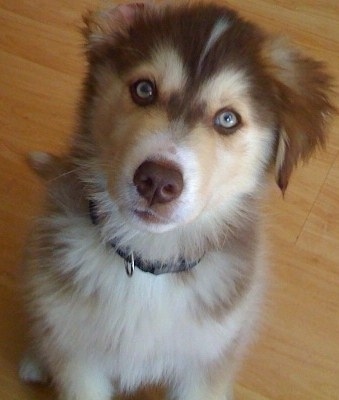 http://www.dogbreedinfo.com/g/goberian.htm
and this:

http://www.thefeaturedcreature.com/2013/08/mixed-breed-spotlight-golden-retriever-husky-mix.html
and even this:

http://www.hybrid-dogs.com/goberian-golden-retriever-and-siberian-husky-hybrid-dog/

Australian Shepherds with blue merle colouring in their coats (like the one in your picture) look like this:

http://www.dogbreedinfo.com/australianshepherd.htm

and this
http://www.dailypuppy.com/puppies/cooper-the-australian-shepherd_2010-12-20


Other Australian shepherds do not always have the same colouring however:
http://skhs-australianshepherds.wikispaces.com/

I hope this clears things up a bit on the differences between these two dog breeds and their colouring. :) Sometimes it can get a bit confusing when identifying dogs by their coats, especially when you take into account all the different cross breeds there are today! xx
"I always try to dance when this song comes on because I am the Queen and I like to dance." -
Queen Elizabeth II about the song Dancing Queen (x)
(Source: direcartographies, via keepcalmanddarrencrissmas)
(Source: ache, via mylifeindoodles)
(Source: tomhiddleston-gifs)
It never ceases to amaze me, the courage of Hobbits.
(Source: thewebdetectives, via thewebdetectives)